In an effort to blog more, I'm trying to add more things to my site that I think are interesting. Thanks for sticking with me!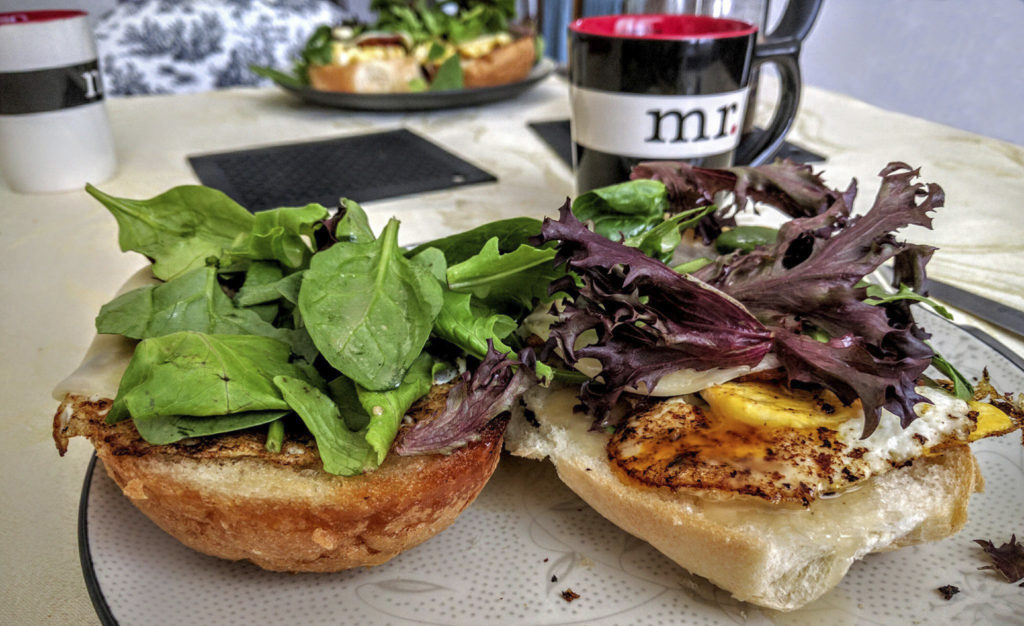 It's Sunday morning and you're getting ready for church or life and need to make breakfast for you and your spouse. With some simple bolillo rolls, (bolillo is Spanish for french bread) you can have this simple and quick lunch ready in about 15 minutes.
This is a simple brunch or breakfast idea. It's an open faced sandwich on bolillo rolls with fried or scrambled eggs, applewood smoked bacon, baby spinach mix and provolone cheese.
Directions:
Fry applewood smoked bacon in cast iron skillet on medium low (level four) until done to your liking. I cook my bacon low and slow so that it doesn't burn and smoke out the house. Remove, drain on plate with paper towels.
Drain grease from skillet. Immediately add eggs and fry 4 -5 minutes. Using a flexible metal spatula, gently work under egg to pry it from the skillet. Gently flip and fry on the other side until done to your liking.
Slice in half and add bolillo rolls to skillet and lightly toast until brown on edges. This is optional and can be done in a toaster oven or broiler of your oven. Be careful of timing, not to burn rolls.
Remove and serve rolls open faced with egg, bacon and cheese. Add toppings and vinaigrette with salt and pepper to taste.
Mustard Vinaigrette Dressing:
1 tbsp Boar's Head deli style mustard
1 1/2 tbsp red wine vinegar
1 tbsp fresh lemon juice (one small lemon)
1/2 cup avocado oil
1 small clove garlic, whole
Mix all ingredients and refrigerate for 30 minutes or put in freezer for 5 - 10 minutes to chill. Mix and serve.