On March 22nd, Michelle and I participated in the Asheville Tri Club's triathlon at the local YMCA.
[caption id="attachment_27946" align="alignright" width="224"]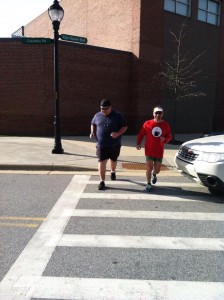 Courtesy of Asheville Triathlon Club[/caption]
There was a 15 minute swim followed by a 40 minute spin class and then a three mile run (5k) a the end.
Overall it was fun but not something that we were expecting to do. My awesome boss Matthew Ledford encouraged us to sign up so we went out and bought Michelle some new running shoes and we were off!
The weekend before that we participated in the Bike of the Irish, a 13 mile bike ride around Asheville. That was probably the most I've ridden since my last triathlon.
It was good to get out and run again because it's been no secret that my weight loss and training have taken a back seat since I went through all of my life changes in the past year.
We have started plotting a map for races that we want to do in 2014 and I hope we'll have some more good news about that soon!