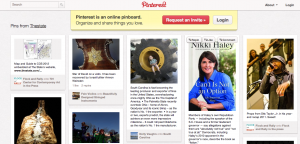 If you're in the social media world, you can't ignore its newest darling, Pinterest.
If you're a newspaper or a photojournalist, you can use this quick tip to see who's been pinning your work.
For this example, we'll use The State. Point your browser to http://www.pinterest.com/source/thestate.com/ and you can quickly see who's been pinning your photos.
You can change the source to any site and it will still work. This is also a great tip for businesses who want to keep tabs on what people are saying about them on pinterest.
Enjoy and have fun pinning!